Home
Final of first student competition of Chinese language students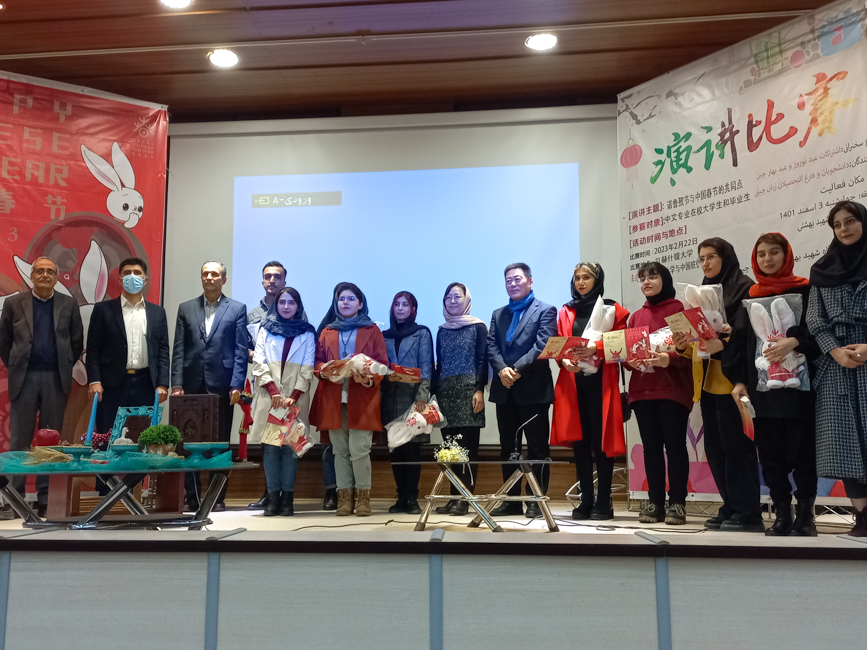 The final of the first student competition of Chinese language students in the country was held on Wednesday, February 22, 2023, under the auspices of the Chinese language department of Shahid Beheshti University and in cooperation with the Chinese Embassy.
The final ceremony of this competition was held with the presence of Dr. Abtahi, vice president for research and technology of the university, Li Fu Hua, deputy of the Chinese embassy in Iran, Dr. Khatami, dean of the Faculty of Letters and Human Sciences, Dr. Karimian, director of international scientific cooperation, China's cultural consultation, and a group of employees of the Chinese embassy and professors and students of Chinese language at University of Tehran and Allameh Tabataba'i University.
The topic of this event was the similarities between Nowruz celebration and China's Spring Festival, which relies on the cultural commonalities and concepts accepted by the people of the two countries. This event is defined as a movement to strengthen public diplomacy between the two countries, whose focus is the commonalities, culture, and history of the two countries, and will motivate and appeal to those who are eager to elevate the culture of the two countries. From a point of view, this activity strengthens the enthusiasm of Chinese language students and strengthens their academic competitive motivations.
This action of Shahid Beheshti University's Chinese department can cause more interactions and strengthen the department's cooperation with Chinese universities and scientific centers. Such programs can encourage and motivate similar activities in the university and improve the level of international and cultural relations of the university.