Home
Iran becomes member of IBPSA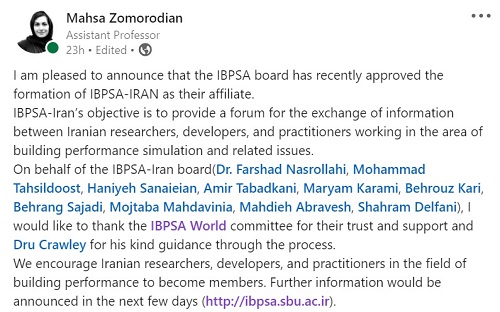 ​Through the efforts of Dr. Zahra Sadat Zomorrodian, a faculty member of SBU, Iran became a member of the International Building Performance Simulation Association (IBPSA).
The IBPSA has recently approved its official subset in Iran, IBPSA-Iran. The purpose of this association is to provide a platform for the exchange of information and scientific, research and industrial cooperation between researchers and specialists in building performance simulation in various fields including energy, lighting, fire, ventilation, acoustics, etc. The founding board and members of the steering committee consist of faculty members of the country's universities and researchers in the fields of construction sciences and mechanics who have outstanding research records in this field.
Through the follow-up by Dr. Zomorrodian, a member of the Faculty of Architecture and Urban Planning of SBU, Iran is the 33rd country whose membership in this association has been recognized. The relevant website has been created within the domain of SBU at http: //ibpsa. sbu.ac.ir, and additional information and future plans and activities will be provided soon.
The members of the steering committee of this association in Iran consist of specialists in the field of construction sciences including architecture, computer, electronics and mechanics from top domestic and foreign universities.
IBPSA is the most prestigious association in the world in the field of building and energy performance simulation and a place for exchanging information and presenting the latest achievements and innovations in this field, which has been holding relevant conferences for more than twenty years.