4th Iranian International Conference on Microelectronics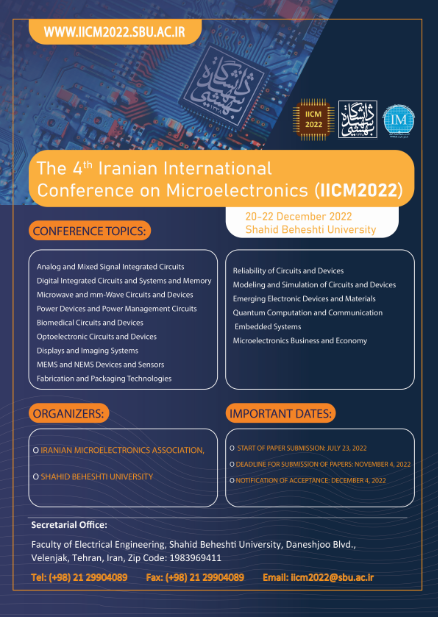 20-22 December
Shahid Beheshti University is proud to hold the fourth Iranian microelectronics conference with the participation of Iranian elites inside and outside the country and with the support of Best universities on December 20-22, 2022 in Tehran.
The executive committee of conference invites all researchers, experts, specialists and industrialists active in universities, industries and organizations related to the design technology, manufacturing, testing and application of systems and electronic integrated circuits, which is called microelectronics, to submit their papers that contain the latest scientific findings in the subject areas of the conference to the conference secretariat via the following web address:
http://iicm2022.sbu.ac.ir/
The main topics of the conference are as follows:
Analog and Mixed-Signal Integrated Circuits
Digital Integrated Circuits and Systems and Memory
Microwave and mm-Wave Circuits and Device
Power Devices and Power Management Circuits
Biomedical Circuits and Devices
Optoelectronic Circuits and Devices
Displays and Imaging Systems
MEMS and NEMS Devices and Sensors
Fabrication and Packaging Technologies
Reliability of Circuits and Devices
Modeling and Simulation of Circuits and Devices
Emerging Electronic Devices and Materials
Quantum Computing and Communication
Embedded Systems
Microelectronics Business and Economy
 
At the same time as the conference, key lectures will be given by scientists from universities around the world. Along with the conference, educational workshops, exhibitions, specialized roundtables and scientific and industrial competitions will also be held. This conference is licensed by the Ministry of Science, Research and Technology and the accepted papers will have valid international indexes.
It is worth mentioning that the English papers of the previous courses of this conference have been indexed in IEEE Xplore and the related work is being followed up for this course as well.