Home
Fifth volume of Pahlavi Dictionary published by SBU Press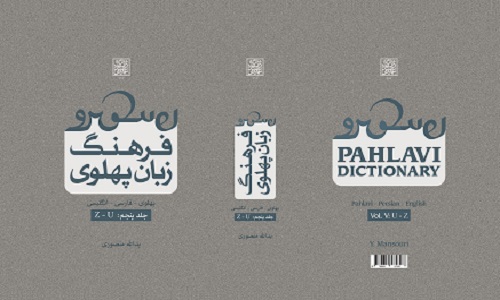 The book "Pahlavi Dictionary (Pahlavi – Persian – English / Volume V: U-Z)", written by Dr. Yadollah Mansouri, a faculty member of the Faculty of Letters and Human Sciences has been published recently by SBU Press in 1206 pages.
SBU Press has published the first volume (Ᾱ-A), the second volume (B-G), the third volume (H-N) and the fourth volume (O-T) of the Pahlavi Dictionary in 2016, 2018, 2020 and 2022, respectively.
One of the characteristics of this dictionary is that it is trilingual. The way this volume is written is the same as the previous volumes, except in some places, where its inaccuracies are removed, and the effort is made to make it more elaborate than the previous volumes. It goes without saying that there may be some difficulties and shortcomings in this volume, but unless all volumes are published in one work, the shortcomings will not appear and the inconsistencies will not be tackled. In the meantime, it is hoped that the scholar readers will realize its inaccuracies and remind us of its shortcomings.
On the other hand, in compiling and organizing the fifth volume, an effort has been made to make this volume not to be dependent on the previous volumes, like usual dictionaries. That is to say, it should start from the first page number and end with the final page number. In other words, this book should have a separate bibliography that does not require the reader to return to the first, second, third and fourth volumes. Another advantage of this method is that since the pages of the five volumes have not come in a row, new words and data can be easily added to the previous and subsequent volumes in the future.
It is worth mentioning that dear readers can refer to the preface of the first volume to learn more about the contents of this dictionary.